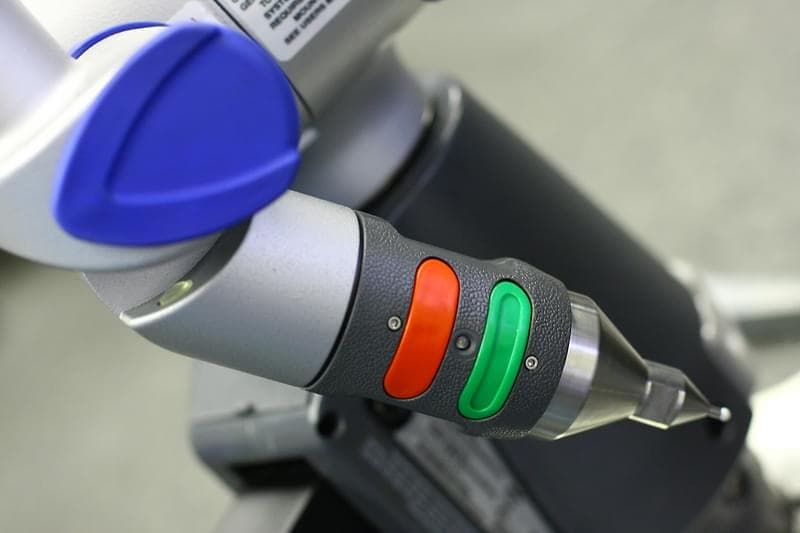 MEASURING WORKPLACE
To improve the efficiency and accuracy of the final product measuring and elaboration of the relevant inspection documentation, we invested in the state-of-the-art technology for 3D measuring - the FARO Arm Platinum 10 mobile coordinate measuring machine in a 6-axis version. This equipment also includes the Polyworks® Inspector software that enables effective generation of inspection protocols.
Within the scope of installation of the FARO measuring equipment a separate measuring workstation was established, where accurate measurements are performed on the granite measuring desk and appropriate inspection protocols are elaborated. The design of the FARO equipment enables it to be flexibly transferred and used for the most accurate measuring right in the production area, e.g. on finished welded sub-assemblies before painting. This increases the flexibility and the quality control efficiency.
TECHNICAL PARAMETERS
Measuring range: 3 m
Accuracy: Repeatability of spatial single-point measurement 0.043mm (.0017in.) (2 Sigma Single Point)
Linear accuracy: ± 0,061 mm (± .0024in.)
Comparison of scanned data with the CAD model.
ARE YOU INTERESTED IN
THIS PART OF PRODUCTION?
For any questions or interest in cooperation, do not hesitate to send us a non-binding request.
We will be happy to help you with the production of products.